Happy International Women's Day! :D Today is the day to be thinking about women in your life that inspire and amaze you- whether they are real or fictional :)
Today, I will give you a list of my fictional inspirations who are female like me :) :)
Siri Tachi from Star Wars -
"I never loose my focus, Obi-Wan. Or my commitment."
Ferus Olin: It seems so hard, Master. To have so many beings who are important to me but not to be attached to them. I don't understand what is meant by "no attachment."
Siri Tachi: It's not so hard to explain. To love without wanting to possess or influence. To cherish without keeping. To have without holding.
Ferus Olin: I understand, Master
Siri Tachi: No you don't. It's not something to understand. It's something to strive for.
(she kind of looks like Cordelia Chase from Buffy/Angel here)
Jaina Solo from Star Wars -
"
I name you the Sword of the Jedi. You are like tempered steel, purposeful and razor-keen. Always you shall be in the front rank, a burning brand to your enemies, a brilliant fire to your friends. Yours is a restless life, and never shall you know peace, though you shall be blessed for the peace that you bring to others. Take comfort in the fact that, though you stand tall and alone, others take shelter in the shadow that you cast.
" - Luke to Jaina
Satele Shan from Star Wars -
"
And the last… Satele Shan, guardian of the Republic, whose words inspired armies. They had fought separately, on the Ash Plains of Lenico and in the asteroid-hives of Gelpog the Tyrant. They fought twenty thousand years of evil, incarnate in the Sith Emperor and his servants. They never faltered. Of them all, it was Satele who made me the most proud.
"
―Ngani Zho, on Satele and his other former students
Tahiri Veila from Star Wars -
"
I think it's time to leave the lies behind. It's time to leave a lot of things behind.
"
Tenel Ka Chume Ta' Djo from Star Wars -
"
You carry within you everything that a Jedi Knight is.
"
Tallisibeth Enderwung-Esterhazy(Scout) from Star Wars -
"
Too few Jedi have I already. But even had I a crop of thousands, small one, I would not let you go without a fight. Spirit and determination you have. Between the stars, so much darkness there is. Why would I throw away one who burns so bright?
" - Yoda
"
Tallisibeth, being a Jedi is about being resourceful, keeping your eyes open, and never, ever giving up. You taught me a lot about being a Jedi today.
"
Mara Jade(Skywalker) from Star Wars -
"
I'm a fighter. I've always been a fighter. The few times when I have been at leisure, I've been miserable. I want challenges, I crave them.
"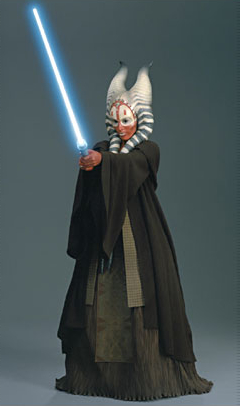 Shaak Ti from Star Wars -
"
Poor boy. The Sith always betray one another. But I'm sure you'll learn that soon enough.
"
Luminara Unduli from Star Wars -
The crystal is the heart of the blade. The heart is the crystal of the Jedi. The Jedi is the crystal of the Force. The Force is the blade of the heart. All are intertwined: the crystal, the blade, the Jedi. You are one."
---Luminara Unduli
The road is long, but it is worth the journey, for a true master of Form Three is invincible."
―Luminara Unduli on Form Three (Soresu)
Barriss Offee from Star Wars(EU) -
"It's not the size of the Jedi or the amount of power running through her lightsaber, but the strength of her heart."
―Barriss Offee